Gustavo Fring is the owner of a chain of restaurants–Los Pollos Hermanos. He looks like an ordinary guy but he's actually a major player in the drug trade. Looking at the guy you'd think he was just your typical work-a-holic franchise owner who gives back to the community. But the man can be ruthless.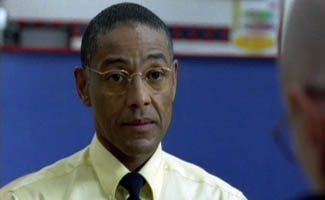 A Gus Fring costume could be a well fitted suit or maybe a yellow button down shirt with a blue tie, which he usually wears while working at one of his restaurants. However one costume to me would stand out the most. It's based on a scene from the episode titled "Box Cutter".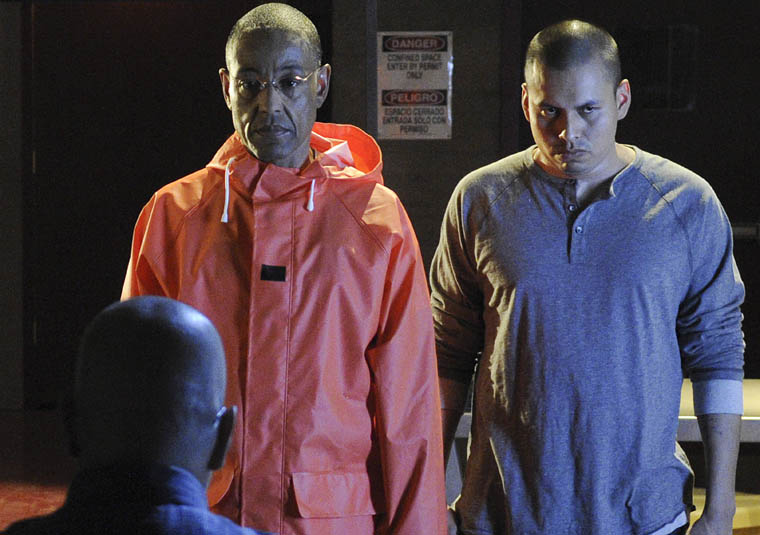 First thing you would  need is the orange rain coat. After some detective work, it looks like the orange rain coats worn on the show are actually Haley Hanson raincoats. If you look at the screenshots, the tags are blacked out on the show but they are at the same exact spot as the real coats. I think it's probably because they didn't want to pay a fee to HH:
There's other options:
You don't need them but you can put on some rain boots also:
Next, you'll want to pick up a utility knife (this is optional, depending where you're going). Gus uses a green one on the show:
Cheapest option would be picking one up at your local dollar store. I recommend you remove the blade before you go anywhere. Obviously in some situations it would be better to leave the utility knife at home.
Next thing I recommend is picking up some fake blood. Splash some of it on your rain coat and maybe some on your face.