Badger is one of Jesse's loyal followers. He's a hilarious character. He's just so goofy and stupid, but he's a loyal friend too. Anyway, here's what I think would make a great Badger costume.
In one episode of Breaking Bad. Jesse runs into Badger while he's wearing as a human advertisement.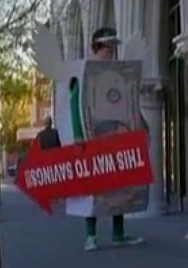 First you need the dollar bill costume. I think for the show they made it a $1 costume, but all I can find online is a $100 bill costume:
Maybe you can wear something green underneath your costume. On the show it looks like Badger is wearing green tights and a long sleeve green t-shirt maybe.
His costume has a set of what appears to be foam wings. I didn't see any online, but I don't think you would really even need them.
Finish off the look with a green visor.
Make yourself a sign and twirl it like crazy. Even if no one knows who you are it'll still be a great costume because it's hilarious.